News
Latest updates from the campaign and important events in Rancho Cordova:
Friday, November 6, 2020 10:14 AM
Rancho Cordova State of the City Address 2020
The State of the City event is a civic gathering during which David Sander, as the Mayor of Rancho Cordova, delivers a "State of the City Address." It is an opportunity to take stock of where we are as a city and peer into the crystal ball to the future. The event is produced by the Cordova Community Council. (www.CommunityCouncil.org)
Due to these unprecedented times, the 2020 State of the City went virtual!
And in the Rancho Cordova way of things, it's BIGGER and BETTER!
Here's the link to the video:
https://www.youtube.com/watch?v=rpEJbCYPk9s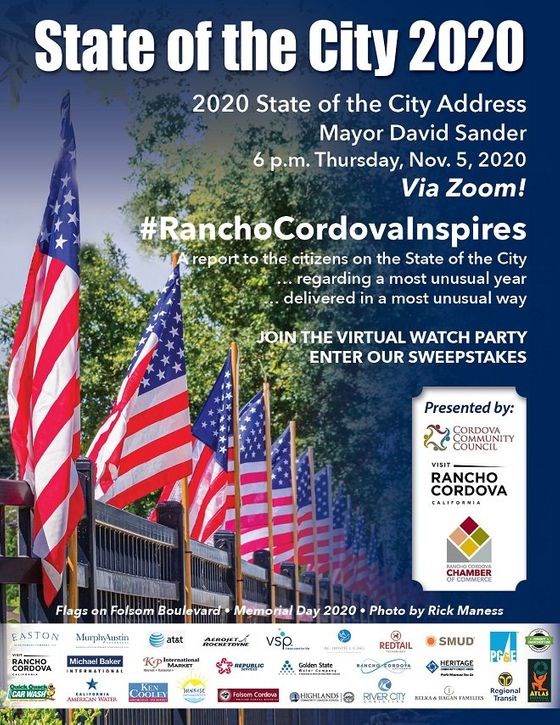 ---
Wednesday, November 4, 2020 10:10 AM
Election Night Success!
Election Day results are in, and our Campaign for Rancho Cordova City Council looks extremely successful in these results.
David Sander leads the pack in the six candidate contest, where the top three will serve on the City Council!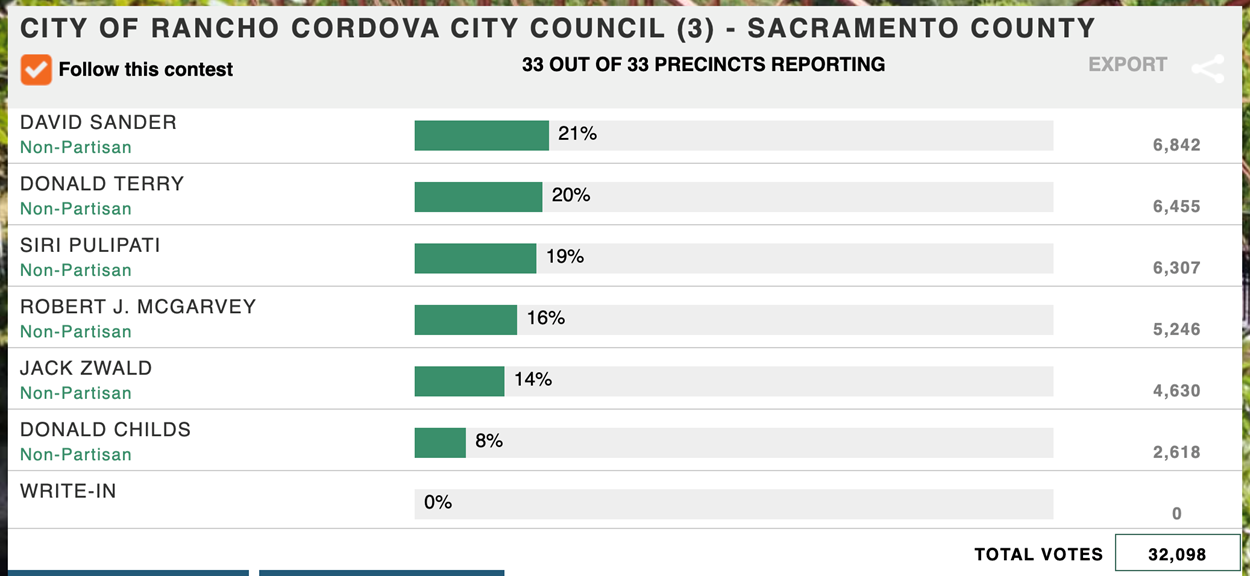 ---
Tuesday, October 6, 2020 10:51 AM
League of Women Voters Candidate Profiles Released - Voter's Edge
The Voter's Edge California 2020 voter guide provides in-depth information about what's on your ballot. Enter your address to get a personalized list of candidates and ballot measures, including biographies, top priorities, who supports each candidate, and more. The 2020 voter guide includes descriptions of each California ballot measure and who is spending money for and against each measure. With Voter's Edge, you have all the election information you need at your fingertips.
The Rancho Cordova City Council Candidates are all featured here - check them out!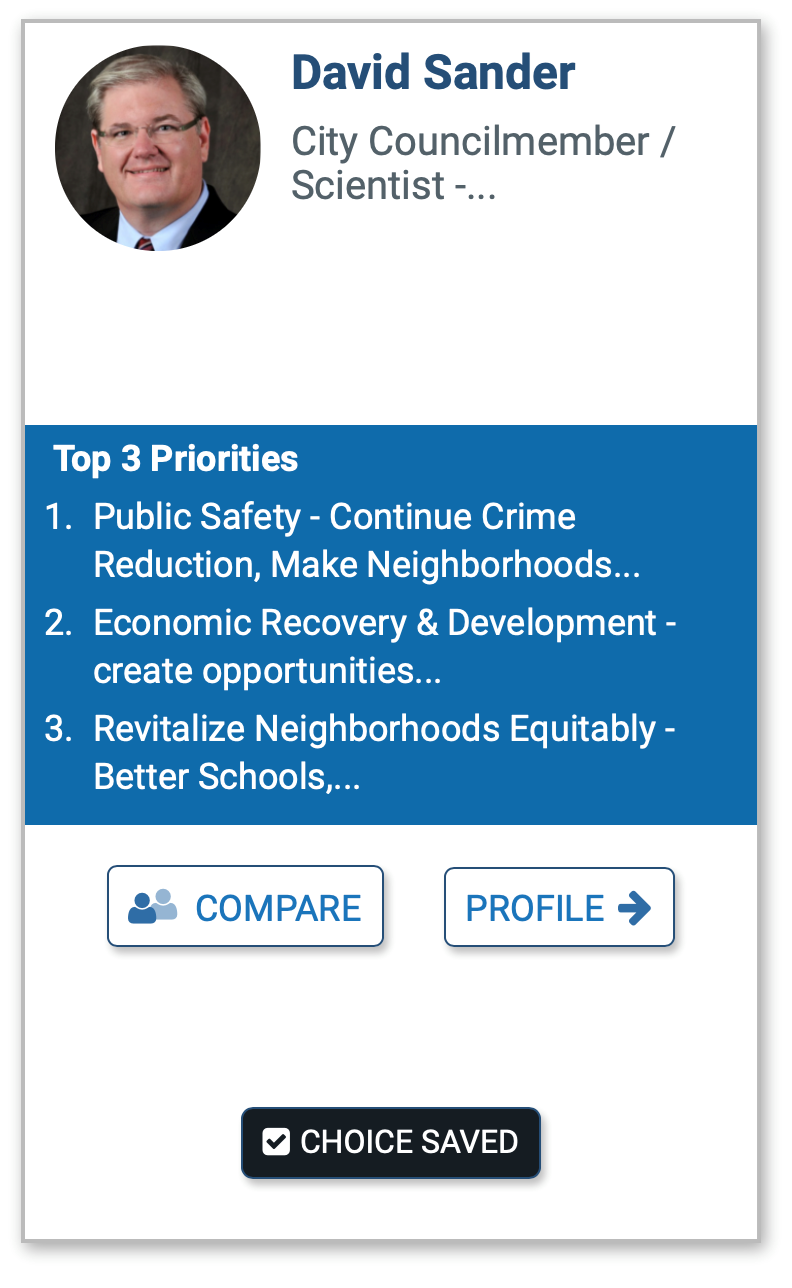 ---
Monday, September 14, 2020 2:21 PM
Free COVID Testing Available in Rancho Cordova
Free COVID-19 Testing
The County of Sacramento is offering FREE COVID-19/coronavirus testing at the Cordova Neighborhood Church located at 10600 Coloma Road in Rancho Cordova. This community testing site is available by appointment only and is limited to those who have no COVID-19 symptoms or mild to moderate symptoms.
Appointments for testing at the FCCP site will be available on Tuesdays from 10 AM – 6 PM. To make an appointment, or to learn more, visit FolsomCordova.SetMore.com or contact 916.361.8684. Those who are tested will receive their results within 72 hours, and all results will be kept confidential.
If you are experiencing severe symptoms of COVID-19, contact your healthcare provider for information about where you can be tested.
---
Wednesday, September 9, 2020 2:58 PM
Letter of Concern about the Handling of COVID Crisis to Sacramento County Board of Supervisors
The City Council of the City of Rancho Cordova sent a letter outlining concerns with Sacramento County's handling of the COVID crisis -- both with regard to Public Health considerations as well as economic impacts. The Council expressed serious concerns about the County's lack of public health response (testing, education, contact tracing, etc.), use of COVID Relief Funds to balance the County General Fund Budget, and the County's lack of support for businesses most at risk during the shutdown.
---
Tuesday, August 18, 2020 2:44 PM
Utility Box Art Wraps Coming to Rancho Cordova - Apply Now as an Artist
To further beautify Rancho Cordova, and to support our local artists, the City of Rancho Cordova is sponsoring local artists to design Utility Box Art Wraps for our community.
You can learn more at the City's Utility Box Art Wraps program site.
---
Wednesday, April 1, 2020 2:39 PM
The City of Rancho Cordova has compiled comprehensive information for our residents and businesses about the impacts of COVID-19, the novel Coronavirus for our residents and businesses.
---
Tuesday, January 14, 2020 10:00 AM
The City of Rancho Cordova is developing a Rancho Corodva Youth Center to serve the needs of our youth, and offer support and opportunities for some of our most important residents.